Article By: Mrs. Prema Adhikari, Bangalore
I have two passions in life, one travelling and another one is taking pictures of places I visit. It was an amalgamation of all these, when my son who has been based in Seattle, US for over 25 years planned a trip for us (my husband and I) this year. The visit being in August was perfect timing as the weather was just right and our dear grandchildren had their vacation.
Though this was our 4th visit to Seattle, every time I visit I feel as if I am visiting this place for the first time with new places to explore and unravel. Such is the beauty of this city!!!!!!!! Seattle with its nickname 'Emerald  City', is surrounded by lakes, mountains and evergreen forests, and contains thousands of acres of parkland. My son's house is lake-facing so the whole day long we can watch yachts and boats moving about.
Washington State's largest city, Seattle is home to a large tech industry, with Microsoft and Amazon headquartered in its metropolitan area so there is abundance of Indian's as India is home for IT brains! The Space Needle is an internationally recognized landmark and Seattle's most popular attraction and every time I see it, it brings back fond memories. This is the first place I visited when I came to Seattle the very first time.
Its hilltop gives visitors the chance to zoom into downtown or catapult themselves toward the Cascade and Olympic mountains. On a clear day you can get great views of Mt. Rainier, the tallest mountain in the state of Washington.
Space Needle
Mt.Rainier
Mt. Rainier is 2 hrs drive from Seattle. Though it is little strenuous to reach there with a long drive, the view of vast Mt. Rainier makes it all worth it. There's a path that you can walk called Paradise that offers such breathtaking views of trees, flowers and animals too.
Another place which I enjoyed the most was visit to Gas Works Park in Seattle. This is a public park on the site of the former Seattle Gas Light Company (gasification plant}, located on the north shore of Lake Union. The park provides panoramic views of the Seattle skyline. I could see the seaplanes taking off from Lake Union.  The visit to the park was fun-filled as we all went as a family there and it was a gorgeous day. We walked the waterfront and took lots of photos of the city. Good city views, views of houseboats and nice for a stroll, the old gas works is a bit odd but an amazing as it was an unconventional place.
Gas Works Park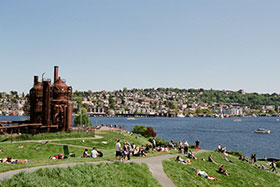 Ballard Locks
Ballard Locks is a must-visit place in Seattle. It is a waterway system that connects the saltwater of the Puget Sound to the freshwater of the Ship Canal, which sits about 20 feet above sea level. The Ballard Locks carry more boat traffic than any other lock in the US. Boats have had an easy route from Lake Union and Lake Washington to the Puget Sound for nearly 100 years.
Being a long weekend, we made a trip to Eugene, in Oregon State on 2nd of September. it was fun time as we with my son's family and one more family went on a two-day trip. We travelled by train from Seattle to Eugene which was about 6 hours journey. Here,we rented a sprawling house with 8 rooms and spent 2 days
While returning we came by flight of 2 hours journey. From Eugene we visited two places a) Sand dune ride and b) Sea Lion caves.
Sea Lion Caves are a connected system of sea caves and caverns open to the Pacific Ocean in the U.S. state of Oregon. During the fall and winter barking sea lions lounge around inside the cave's natural amphitheater and during the summer months they sprawl along outside rock ledges with their young.
Sea Lion Caves
Bronze Statue
Sea Lion Caves
Dune Buggy Sand Land Adventures Ride a dune buggy across the amazing Oregon Dunes National Recreation Area, which stretches along the Oregon Coast. Dune buggy tours are one of the best ways to see this other-worldly, natural terrain. It was a unique experience of having ride along the Pacific Ocean coast.
Sand Dune Ride
Group Photo
After our Sand Dune Ride
We stayed in Seattle for 45 days during which there was an episode of forest fire which made the city covered with ash.
Group Photo
Experienced the haze in the city due to forest fire
However, the beauty of the place was never diminished and we had a wonderful time there.  We returned to India carrying sweet and fond memories of happy moments with near and dear ones and friends, making us yearn to visit the place yet again!!